The hottest collection of locally owned restaurants in town isn't on a major street or in a neighborhood: It's at CITYPARK Stadium. The home of St. Louis City SC prides itself on offering food from a diverse array of St. Louis area restaurants. In a few short months, the stadium has become a head-turner, offering food that's nothing short of spectacular to sports fans who are largely accustomed to the same grab-and-go fare omnipresent at other stadiums.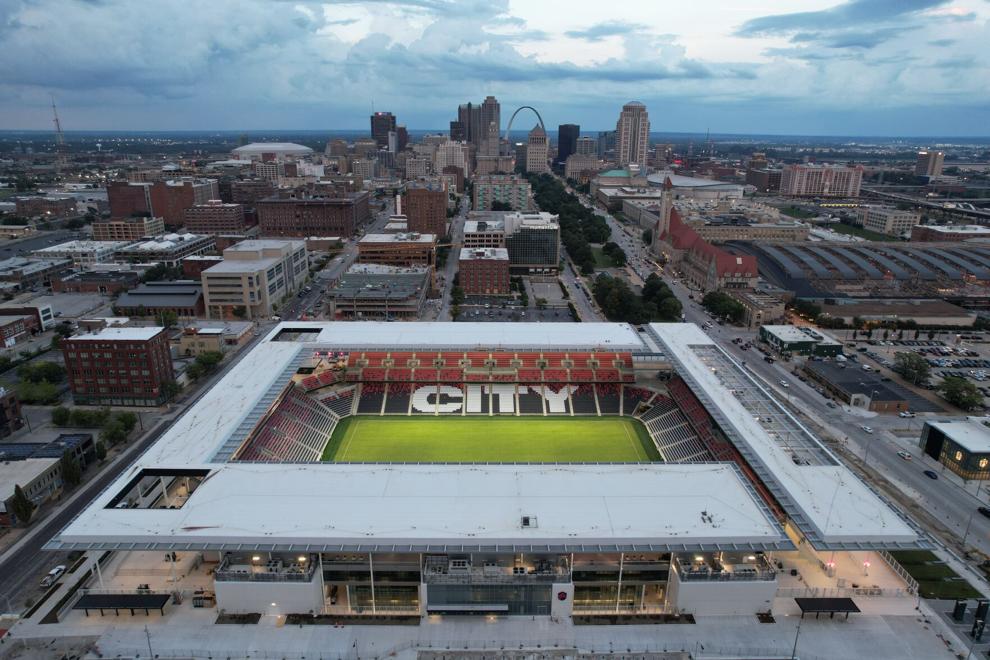 It didn't happen this way by accident. In fact, the very design of CITYPARK itself pivots around the idea that food can be as much a source of hometown pride as the team that takes the field. "We don't control wins and losses on the field, but [the ownership group] wanted to create an experience that people could smile about and be proud of," Matt Sebek, chief experience officer, says. A hometown kid and self-described foodie himself, the project is close to his heart. The ownership team brought on Gerard Craft of Niche Food Group early in the process to weigh in on the design of the stadium itself to better fit the food-forward model. "We had one chance to get this right," Sebek says. "[Gerard Craft] being able to weight in on the design of the stadium was pretty remarkable for us. I don't know that it's ever been done, where food was discussed so early in a design and architecture build."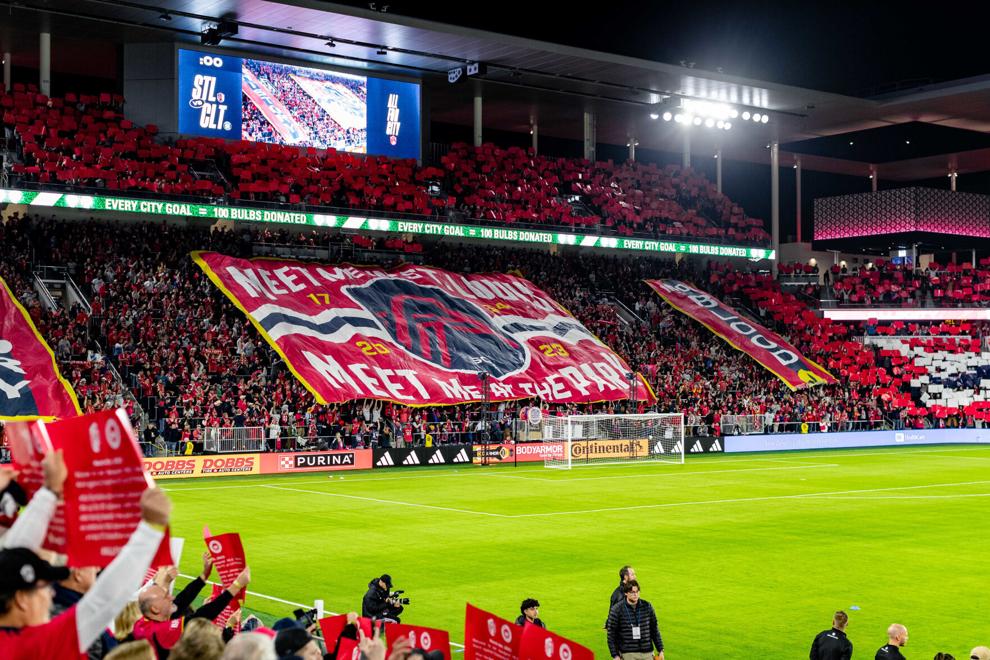 If you've been to CITYPARK, you've noticed the diversity in cuisine: a dizzying array of St. Louis classics as well as food from every corner of the globe. What may escape you is the diversity in neighborhood representation, with restaurants and makers from all over the St. Louis area: city and county, north, south, east and west, even pulling from across the river in Illinois. This was an intentional effort to capture fan favorites, and bring together industry icons and newcomers together under one (very impressive) roof. 
Seem easy? It's not. Sebek notes that it's likely the hardest way to do food at a stadium, but that it's the right way. He says it's been incredible to forge these relationships with local restaurants and to introduce them to customers and volume many have never seen before. "When I hear fans talking about the experience, the first thing we hear people ask is 'Where did you eat?'" Sebek says. "I don't think that's typical for a sports stadium." He's also noticed how enthusiastic fans are about the choices that surround them at CITYPARK. "We see a lot of exploring happening. Fans have created their own 'scavenger hunts' to see if they can try all 25 local food partners, which brings a smile to our face."
The enthusiasm is so prevalent that it's changing the sports spectating model. Soccer fans, long notorious for arriving at game time or later, come an hour early specifically to procure meals and snacks. Families come for dinner, friends meet over a cocktail and some small bites and the entire stadium shrinks the St. Louis restaurant scene into the hottest block in town for the night. The food at CITYPARK may not change the outcome of a game, but it's definitely changing the game.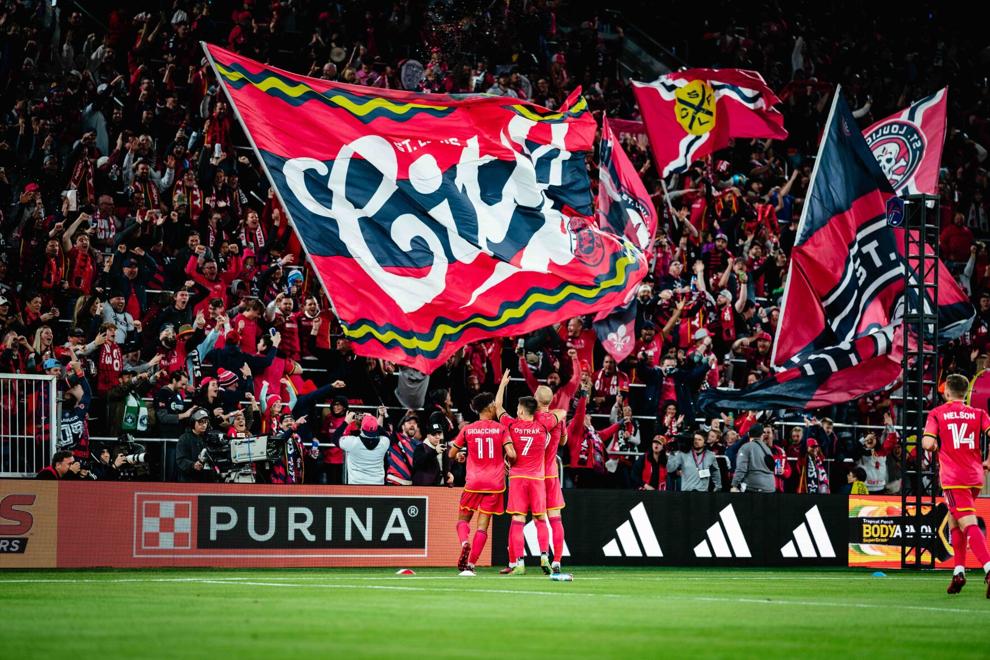 And for Sebek, who was born and raised in St. Louis, it has been something to see. "It's been magical," he says. "To really help our ownership group create an experience that was pride-building beyond the game of soccer? That's been really special to me. And to have food sit at the center of it has been really fun." It's been a hectic time, but he and Craft recently had a chance to walk around the stadium during a game: not as two partners in a massive undertaking, but as two friends and fans taking in a game. And even after all this time, both were wowed by the food scene they had a hand in curating. "We just took in the festival of it all. We got empanadas, we stopped by Balkan [Treat Box], grabbed some DD Mau sliders and it was good to relax and take that in," Sebek says. It's further proof that CITYPARK isn't a stadium with incredible food; it's incredible food with a stadium built around it. 
If you haven't made it to CITYPARK for a game, don't miss it: You can cheer on St. Louis' newest sports team and support local chefs all at the same time. If you find yourself overwhelmed by the sheer amount of choices, we get it. Thankfully, chief flavor officer Gerard Craft is here to help; he gave us his favorite bites at each local restaurant.
Amighetti's
A true St. Louis institution that's over a century old, Amighetti's will satisfy your craving for a massive Italian sub, piled high with Provel, lettuce, tomato, pepperoncini and the meat or veggie of your choice. There are no wrong choices at this iconic sandwich shop.
Gerard Craft Pro Pick: Any sandwich
"It only feels right to have classic Italian sandwiches – their Special Sandwich as well as their turkey and veggie spinoffs – represented inside the stadium."
Upper Concourse, Section 207
*Online order ahead is available
Anthonino's Taverna on the Hill
Anthonio's Taverna is a staple on The Hill, a standout for its seamless melding of Greek and Italian family heritage. This unique approach to the menu has made them an icon, even in a neighborhood that is no stranger to greatness. 
Gerard Craft Pro Pick: Toasted Ravioli
"A true taste of St. Louis, and they make them fresh. They are also always stuffed full!"
Upper Concourse, Section 222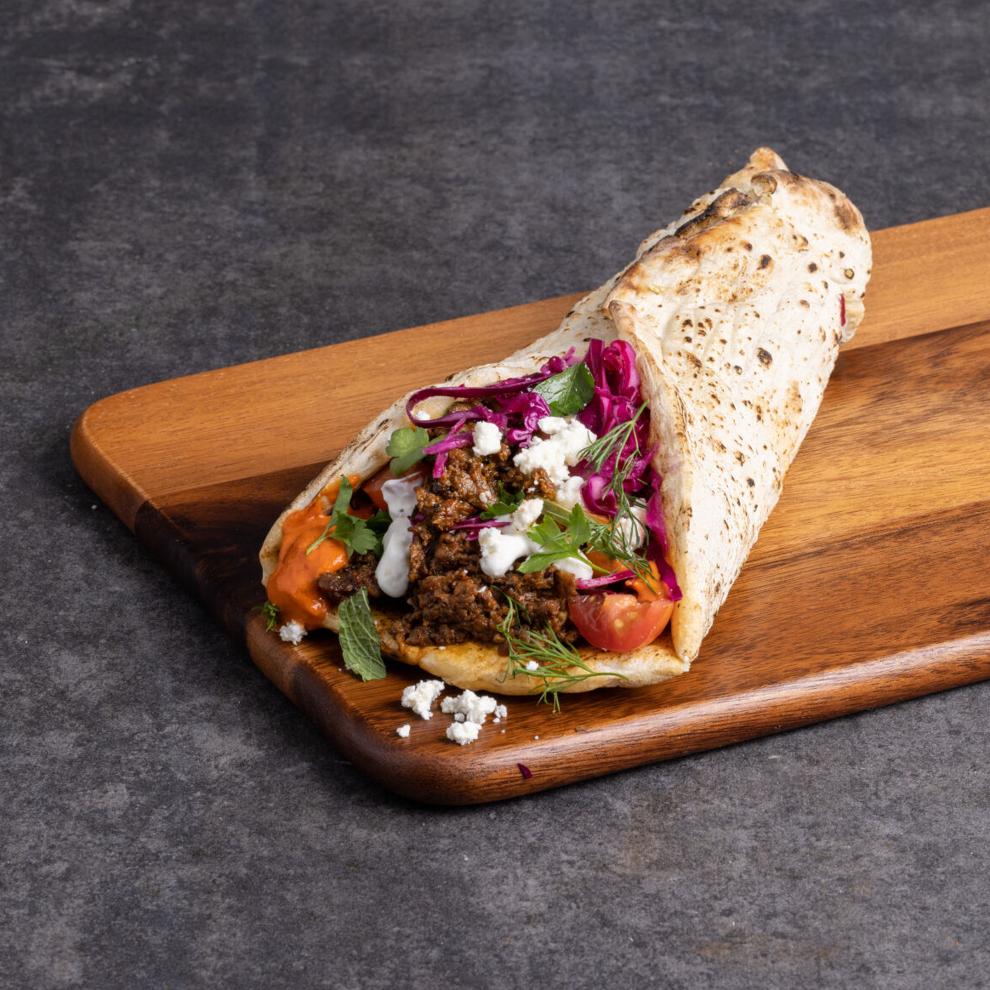 Balkan Treat Box
This fast-casual restaurant garnered immediate attention and national acclaim, even in its food truck days, with Loryn Nalic introducing the traditional Bosnian cuisine of her husband Edo's family to a broad audience. One bite of Balkan's food – especially its tender, flavorful kebabs – and you'll understand why.
Gerard Craft Pro Pick: The kebabs, and if they have the cookie (Orange Pistachio Chocolate Chip Cookie), don't sleep on that.
"You can get a beef or vegan kebab with thinly sliced beef or plant-based meat with cabbage, tomato, onion, feta, garlic and chili sauce with their housemade flatbread."
Main Concourse, Section 106
*Online order ahead is available
BEAST Craft BBQ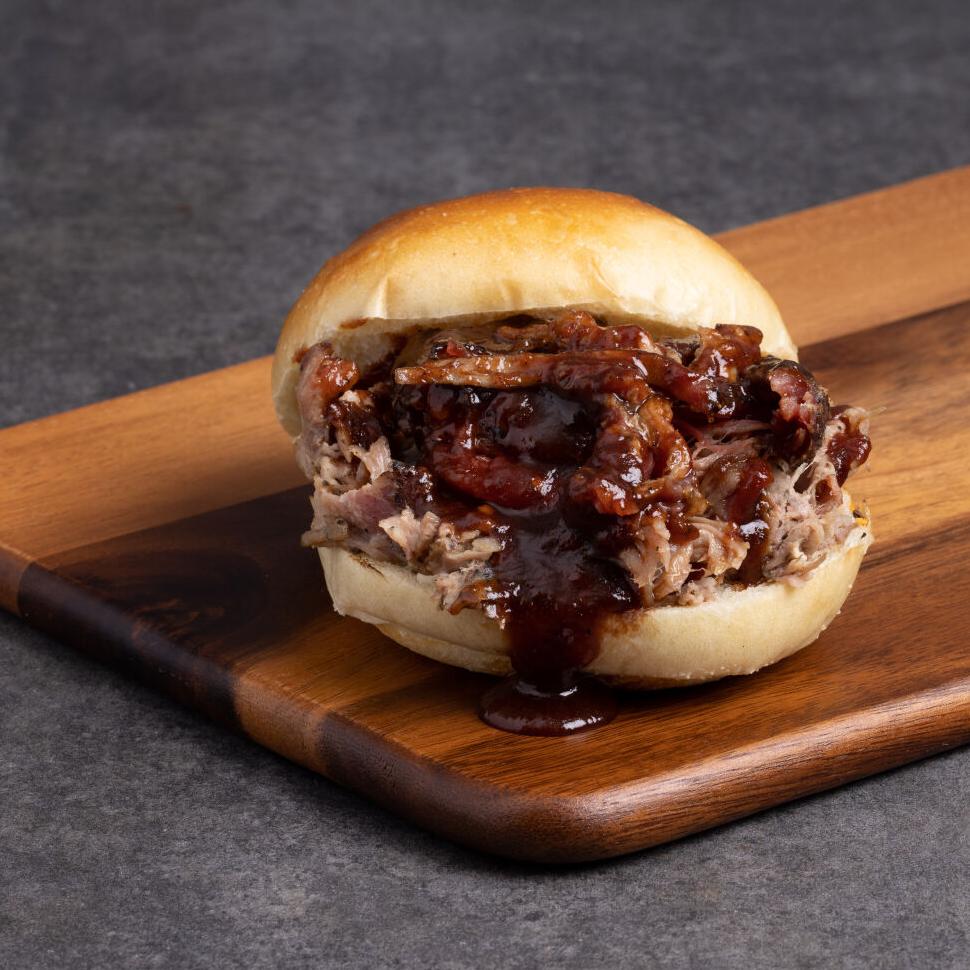 Chef-owner David Sandusky will tell you that he takes barbecue very seriously, and he's passionate about every element that goes into the time-honored process. To understand who he is, look no further than his pork steak or brisket, both crafted with meticulous care.
Gerard Craft Pro Pick: Pork Steak Sandwich
"It's the best that you will have in your entire life. They cut their pork steak to an inch/1.5-inch thick and smoke them until they are tender. It takes a lot of time and care. Most traditional St. Louis pork steaks are cut thin and grilled hard and somewhat tough, but BEAST's still maintains the true flavor profile of St. Louis pork."
Main Concourse, Section 128
*Online order ahead is available
Brass Burger
Part of Gerard Craft's Niche Food Group, you can count on this spot to deliver a juicy, flavorful burger, stacked high with toppings and housemade pickles.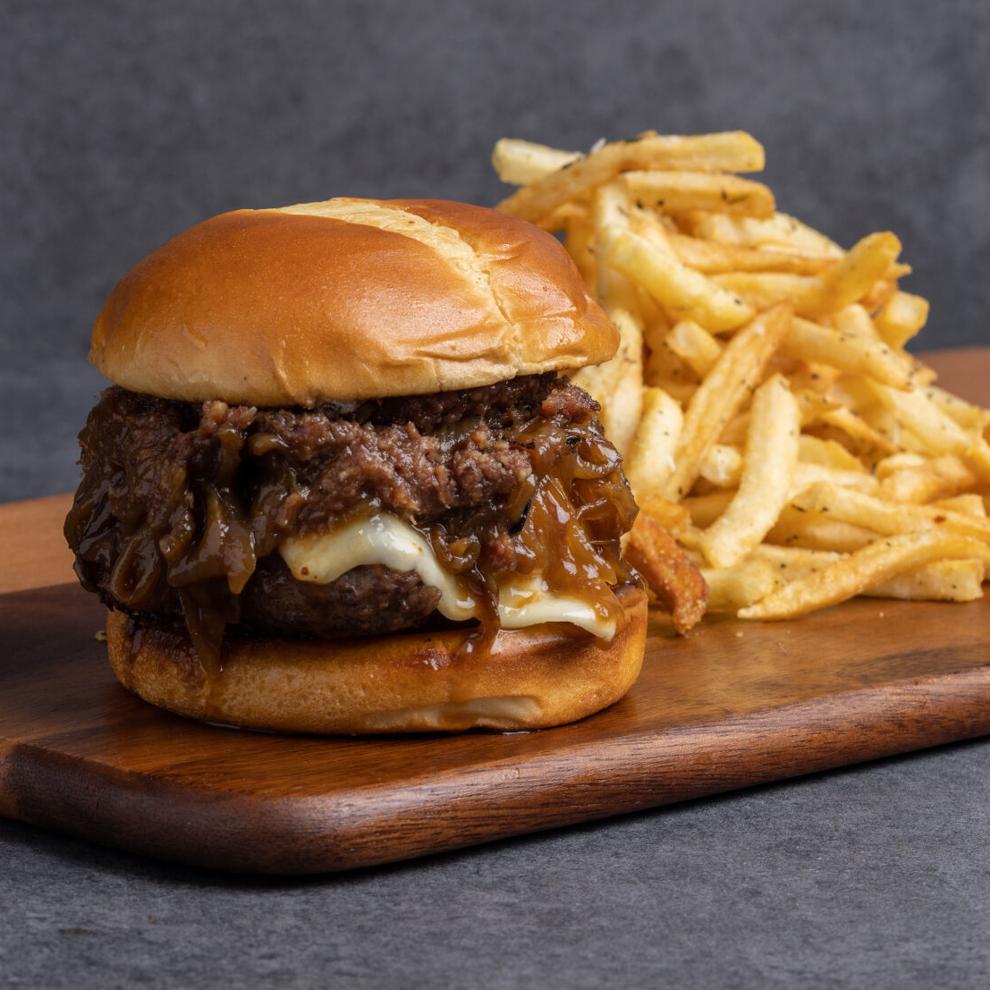 The Block
At The Block, you'll find high-quality burgers and sandwiches made with fresh, locally sourced ingredients the Webster Groves mainstay is known for. The restaurant butchers everything in house to ensure the freshest product possible.
Gerard Craft Pro Pick: Special Burger
"With their name a nod to a butcher's block, you know it's going to be a quality burger! This crew knows their way around all things meat, but the bacon jam takes this burger to the next level."
Upper Concourse, Section 219
*Online order ahead is available
Bold Spoon Creamery
A trip to a sporting event isn't complete without dessert. Bold Spoon, a farmers market and local grocery store favorite, is churning decadent ice cream in seasonally inspired flavors and year-round favorites like dark chocolate sea salt. 
Gerard Craft Pro Pick: Salted Chocolate Ice Cream 
"The texture of the ice cream is amazing, and they are using great chocolate which is complimented with a healthy dose of salt."
Upper Concourse, Section 245
Chez Ali
Owner Alioun Thiam first brought his passion for Senegalese and Caribbean cuisine to City Foundry STL; his stall quickly became a must-try spot in the food hall. Now, he's bringing his signature jerk chicken, samosas and sides to soccer fans. 
Gerard Craft Pro Pick: Beef Samosa
"Samosas are hard to find anywhere, so having them in CITYPARK is a double win."
Main Concourse, Section 108
DD Mau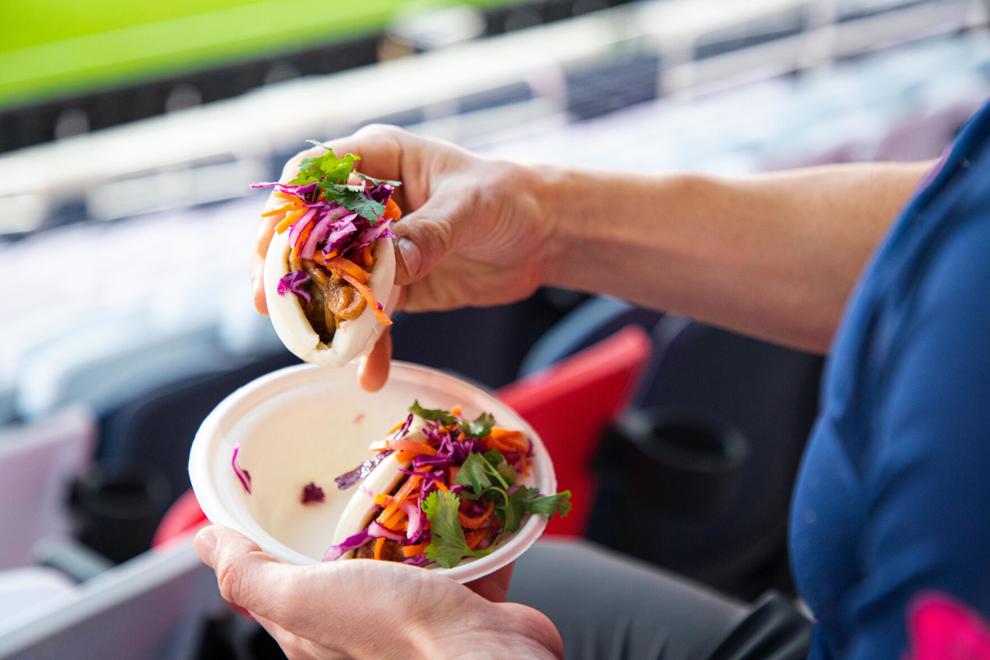 If you're looking for fresh, vibrant food that's packed with veggies that satisfy but won't weigh you down, head to DD Mau for vermicelli bowls and bao sliders. The fast-casual restaurant lets you build your own meal, so it's exactly what you're craving. 
Gerard Craft Pro Pick: Chicken or veggie bao sliders
"DD Mau does not get enough hype. Their food is absolutely amazing! Fresh, filling and delicious!"
Main Concourse, Section 101
Dewey's Pizza
With a chewy crust, fresh toppings and a combo of fontina and mozzarella cheeses, you can rely on Dewey's to serve up a perfectly crispy pizza with just the right amount of cheese stretch. What's better than pizza night? Pizza night at a soccer game. 
Gerard Craft Pro Pick: Garlic Knots
"It's the perfect salty mid-match snack that goes great with a local beer."
Main Concourse, Section 142
Farm Truk
Farm Truk describes itself as farm-to-table comfort food, and its hearty offerings and approachable menu are perfect if you happen to be at CITYPARK for a chilly evening game. 
Gerard Craft Pro Pick: Brisket mac 'n' cheese
"This one really fills you up. They use the best local ingredients to take something simple like mac 'n' cheese to a new level. It's rich, creamy and delicious."  
Main Concourse, Section 148
*Online order ahead is available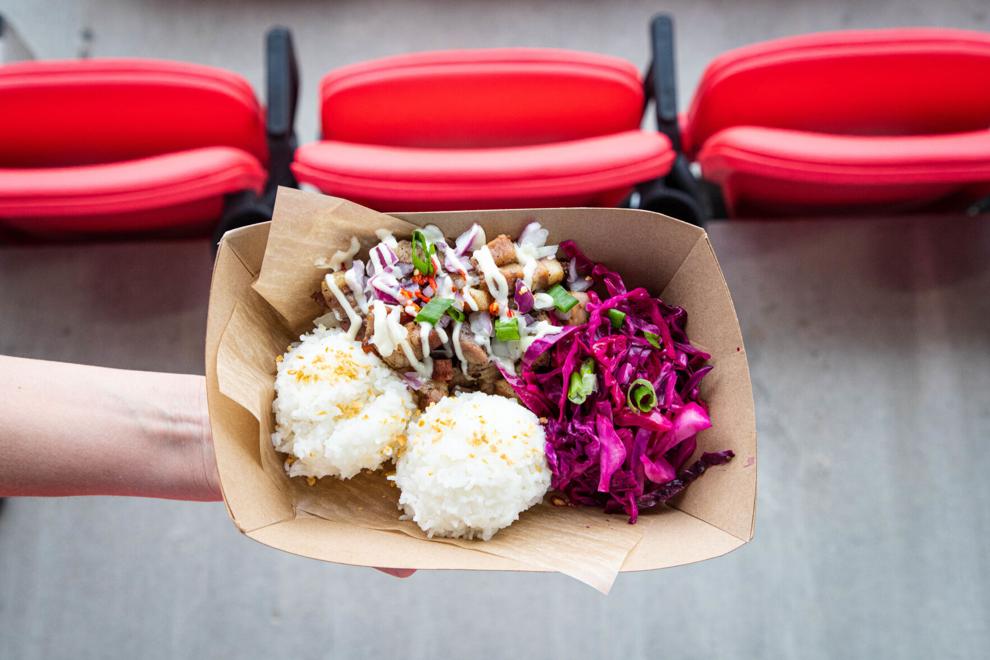 The Fattened Caf
This Filipino restaurant, which began as a pop-up, has gained a cult following for its housemade longganisa sausage and vinegary, bright sauces. If you haven't made it to their current home inside Earthbound Beer on Cherokee Street, scope them out inside the stadium for a meal you won't forget. 
Gerard Craft Pro Pick: Pork Belly Sisig
"This is truly the definition of comforting food. Great pork belly and rice with flavors that take you to another destination in the Philippines."
Upper Concourse, Section 248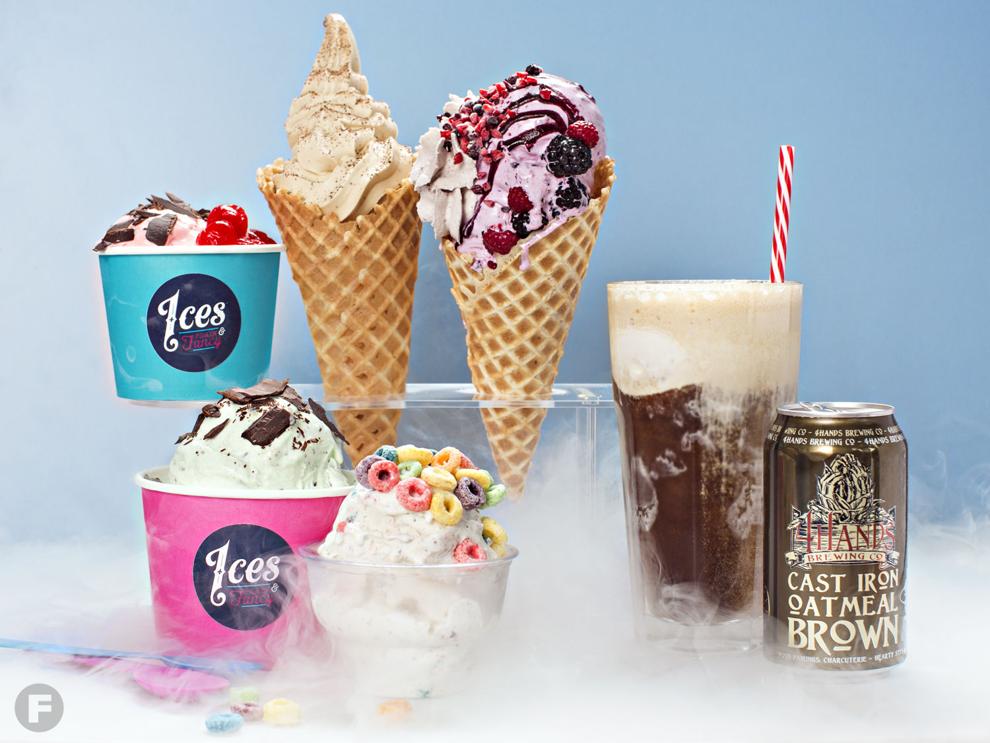 Ices Plain & Fancy
If you're bringing your kids to the game or want to embrace your inner child, Ices Plain & Fancy is a must-try vendor. Its liquid-nitrogen ice cream comes in a wide variety of flavors and is supremely light and fluffy. 
Gerard Craft Pro Pick: Any flavor
"They will be changing up their flavors often, and they make it right in front of you with mixers and liquid nitrogen, so it's always fresh and never crystalized."
Main Concourse, Section 139
La Tiendita
La Tiendita flies mostly under the radar, but to those familiar with the Ellisville spot, it's an easy favorite. Now, it's bringing its popular Mexican food from west St. Louis county to CITYPARK. If you see the pollo pibil – a type of shredded chicken – on the menu, don't hesitate to order it. 
Gerard Craft Pro Pick: Any taco
"When I discovered this place, I fell in love. They make their tortillas in-house, and they are some of the best authentic tacos in St. Louis, hands down. If you miss them, I can't help you in life."
Main Concourse, Section 140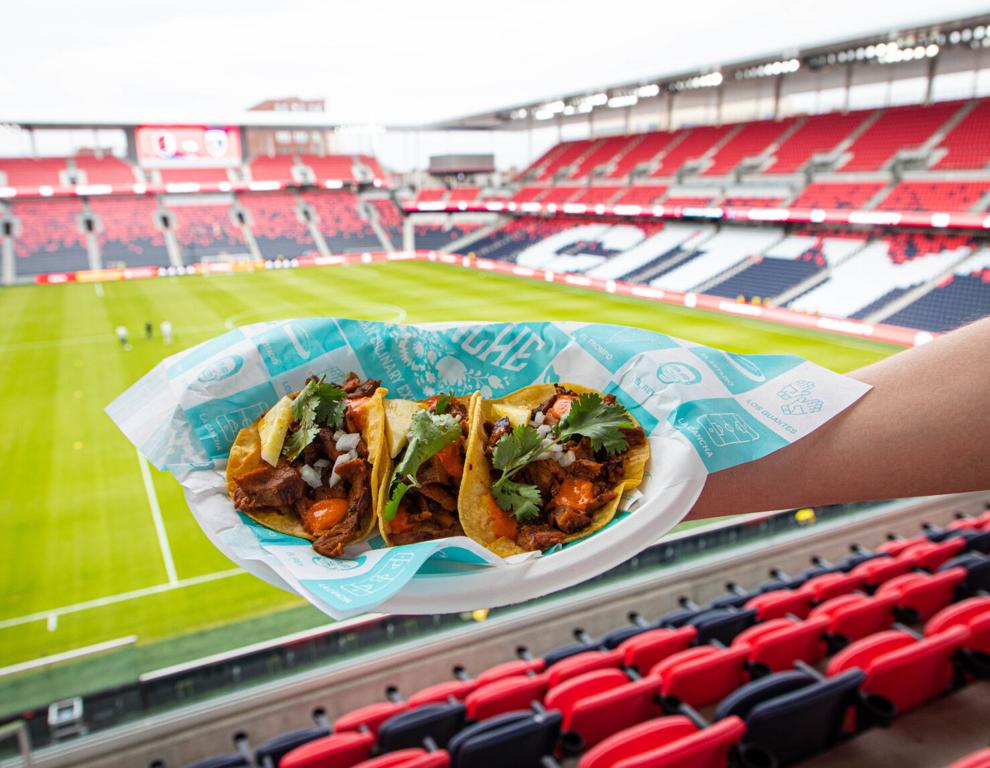 Malinche
Malinche, also located in Ellisville just down the street from La Tiendita, is all about bringing traditional Mexican family dishes to a wider audience. Its unique menu changes seasonally, but no matter what time of year it is, its guacamole and salsas are always on point. 
Gerard Craft Pro Pick: Del Trompo Tacos
"The sweet and savory pork makes for the perfect taco, and the tortillas are incredible."
Upper Concourse, Section 244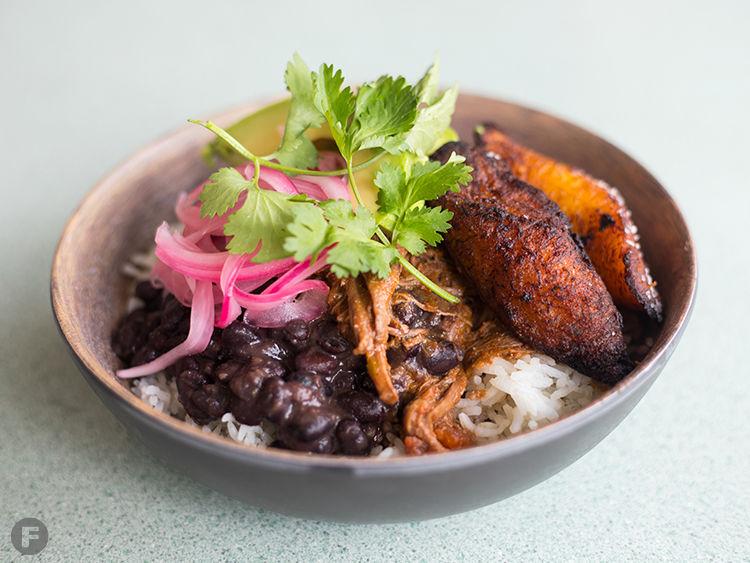 Mayo Ketchup
Chef-owner Mandy Estrella finds inspiration in Puerto Rican, Dominican and Cuban food, evident in both Mayo Ketchup and newly-opened sister restaurant Salsa Rosada's menu. The braised chicken and ropa vieja are standouts, but if you're vegan or vegetarian, fret not: Estrella has plenty of satisfying veggie options available. 
Gerard Craft Pro Pick: Beef empanadas
"They have perfected the classic empanada, and it's the perfect handheld stadium food!"
Main Concourse, Section 110
Nudo House
With locations in Creve Coeur and on the Delmar Loop, Nudo House has become a local favorite for banh mi, pho and ramen. The restaurant is also known for its standout appetizers and salads, which fans mix and match to create full meals.
Gerard Craft Pro Pick: Crab rangoon
"I'd head here first for a pre-game snack of crab rangoon. The perfect sweet-and-salty, fried goodness to start a matchday with a beer in hand."
Upper Concourse, Section 218
Padrinos Mexican Restaurant
For us, a trip to a stadium has to include nachos, and luckily, Padrinos excels at making crispy, cheesy nachos perfect for pairing with an ice cold Margarita. Need something more like a meal? You can't miss with the tacos. 
Gerard Craft Pro Pick: Margarita
"One of the few CITY Flavor partners that has both food and drink on the menu. Grab some tacos but also a Marg. It's hard to get a good Margarita in a stadium setting!"
Main Concourse, Section 120
*Online order ahead is available
Pastaria
Another one of Gerard Craft's restaurants, Pastaria embraces fresh ingredients, handmade pasta and wood-fired pizza. 
Main Concourse, Section 137
Pie Guy Pizza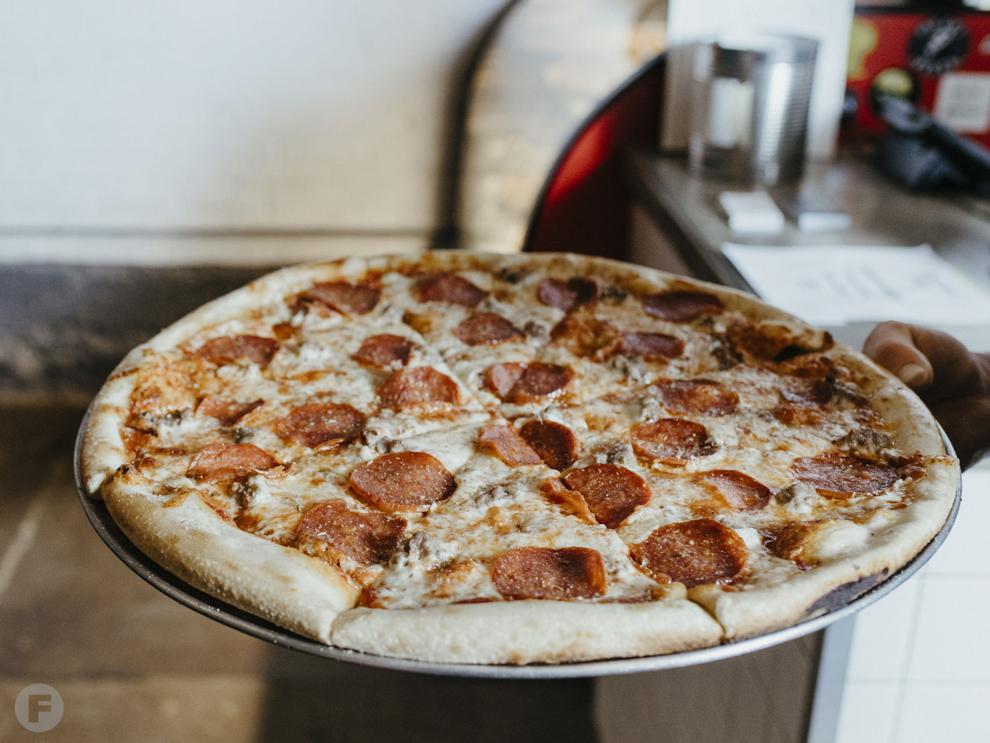 Pie Guy's claim to fame is its sourdough crust that's both chewy and light; it makes a great base for a classic New York-style pie. 
Gerard Craft Pro Pick: Any pizza by the slice 
"It's one of the best New York-style pizza options in the city, but even more special to be able to snag a slice from a stadium. This is another option from one of the frictionless markets."
Main Concourse, Section 118
Steve's Hot Dogs
Steve's doesn't make your ordinary hot dog: All-beef hot dogs get topped with bacon, grilled peppers and onions and more. 
Gerard Craft Pro Pick: St. Louis CITY Dog
"The St. Louis Board of Aldermen declared this the official hot dog of St. Louis – a smoked and grilled all-beef hot dog with provolone, grilled peppers, grilled onions, smoked pepper mustard, banana peppers and crumbled bacon."
Main Concourse, Section 105
*Online order ahead is available
Union Loafers
One of the city's most beloved bakeries and bread makers, Union Loafers knows its way around some dough. Don't miss its quarter-pound chocolate cookie. 
Gerard Craft Pro Pick: Pretzel
"This is not your average gameday pretzel. Union Loafers is known for their breads and this pretzel is worth seeking out." 
Main Concourse, Section 118 and Upper Concourse, Section 211
Wally's
Wally's prides itself on being part of the great American road trip experience, and now it can be part of your great American stadium experience. 
Gerard Craft Pro Pick: Brisket Sandwich
"A great option in one of the frictionless markets to grab a taste of barbecue on the go! Just scan your credit card and grab what you need to not miss a minute of the action."
Main Concourse, Section 144