After a few pandemic years that seriously slowed its progress, Sandy Valley Brewing Co. is up and running – and with a new head brewer. 
Sandy Valley Brewing Co. is a new addition to Villa Antonio Winery in Hillsboro, Missouri. The winery makes everything from scratch, from the wine to the sausage on its wood-fired pizzas, and its new brewery is no different. This is one of the things that attracted head brewer Kyle Matthias to the brewery. 
"I wanted the smaller, more creative side of things as opposed to mass production," Matthias says. "Another big draw for me was the land the brewery sits on and the potential of using ingredients from the land." 
Matthias is originally from St. Louis, but he lived in the Pacific Northwest for several years working in the brewing industry. After finding out that his wife was pregnant with twins, they moved back to St. Louis to be closer to family in 2021. Matthias approached Sandy Valley about working for them as a brewer, but a spot wouldn't open up for him until February 2022. 
Matthias has taken advantage of the creative freedom at Sandy Valley to focus on crafting brews with natural ingredients, such as fruits and plants that are both local and global.
"I like to take inspiration from nature, from different cultures and from causes and try to create something tangible from something intangible," Matthias says.
A prime example of this is one of Matthias' past brews he created at Deschutes Brewery in the Pacific Northwest: the Jolabokaflod, which roughly translates to "Christmas book flood" in English. The name comes from the Icelandic tradition of exchanging books with your loved ones and reading them together on Christmas Eve. Inspired by the tradition, Matthias tried to select ingredients for the beer that properly reflected it. He ultimately landed on a wintery, warmer style of beer that included oak-smoked wheat malt to capture the warmth of a fireplace, spruce tips to relate to the Christmas tree and other types of malt to evoke a dried fruit flavor. After trying the Jolabokaflod beer and learning about the tradition, one of the brewery's customers said that she was going to do the tradition with her own family next Christmas. 
"To be able to kind of transcend beer in a way and affect people's lives, even in that little small way, is super cool and just shows the power that beer and art can have," Matthias says.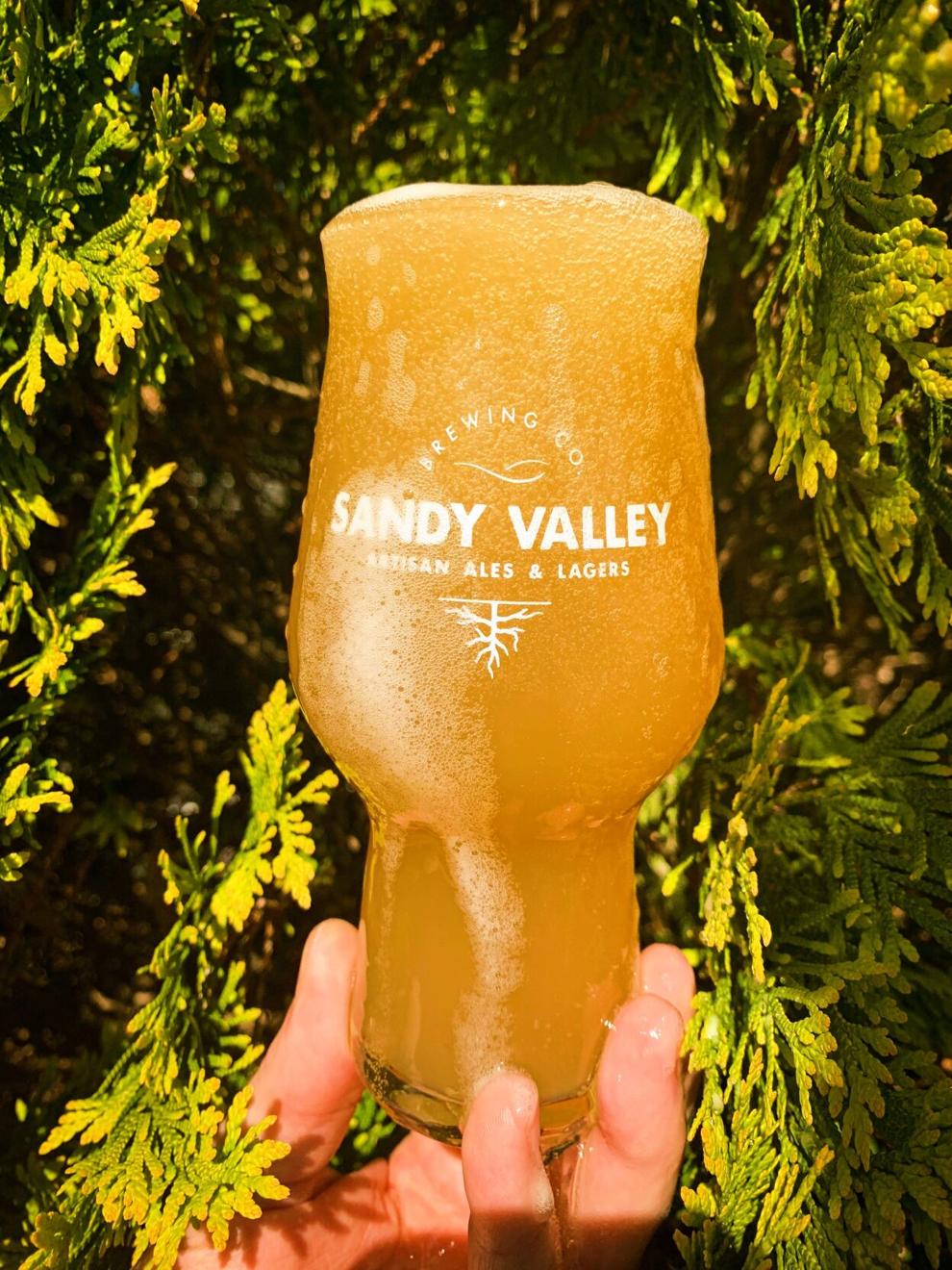 Matthias is working to transform the beer menu at Sandy Valley Brewing Co. More options will be added in the coming weeks, but his lineup so far included six beers: 
Fika: An amber lager made with Coffeestamp coffee and cardamom, inspired by the Swedish tradition of the same name of breaking at midday and having coffee and pastries with friends. 
Komorebi: A West Coast IPA made with spruce tips, named after Japanese word for "light filtering through the trees."
Apirel: A fruited sour made with apricots.
Solona: An ice lager with a clean, crisp taste.
Commons: A hazy pale ale made with varietal hops.
Ulmo: A blonde ale made with Chilean Ulmo honey.
In the future, Matthias plans to incorporate ingredients grown directly on the property into his beers, such as cherries, blackberries, persimmons, chestnuts and grapes. Another interesting combo he's been developing is blending IPAs with Villa Antonio's wines – think whites like Chardonel and full-bodied reds like Norton. He's also been working on identifying plants around the property that he can forage to use as brewing ingredients. 
The brewery adds a necessary alternate beverage option to the winery, according to owner Thomas Polesel.
"It's presumptuous to think that every person out there is going to want wine. I like wine. My dad liked wine. The whole family loves wine, but there's plenty of people who prefer beer," Polesel says. "If you're trying to attract groups of people to come out and visit for the day, you need to be able to serve to people who like wine as well as craft beer. So it just seemed like a natural fit."
The winery also features a scratch kitchen serving up wood-fired pizzas, toasted ravioli and more, as well as live music on Friday evenings and weekend afternoons. Visitors can make a day out of sitting on the dog-friendly patio, enjoying the winery view and tasting the delicately crafted brews and wine.