If there are two people in St. Louis who know how a bar runs, it's Meredith Barry and Tony Saputo. Both are bar-industry veterans in St. Louis and beyond. You might recognize Barry from her stint as beverage director at the Angad Arts Hotel's former Grand Tavern and The ART Bar rooftop, and Saputo was most recently the beverage director for Wheelhouse, Start Bar and The Midwestern Meat + Drink. The two now work together as the co-owners of Platypus – a neighborhood cocktail joint at the end of Manchester Avenue's main stretch in The Grove – and are building an industry workplace that is happier and healthier than what is common in the bar scene.
Platypus opened in November in the former home of The U.R.B. – the experimental kitchen for the neighboring Urban Chestnut Brewing Co. The shotgun-style space features three rooms side by side, each with a slightly different feel: You'll find the main bar when you walk in, followed by a room outfitted with pinball machines and booths before you reach the last room, which holds a stage for live music, that features predominantly metal, hard rock and DJs. And although you might find your own favorite spot in the space, the centerpiece is the large chalkboard hanging on the wall beside the bar that features a list of approximately five rotating cocktails available to order.
This chalkboard serves many purposes. Not only does it support sustainability behind the bar by encouraging the staff to use what they already have, but it also boosts the creativity necessary to have a rotating cast of characters. However, its arguably most essential function is making sure that bartenders are always learning something new. This is especially important at Platypus, as the business aims to be a learning experience for those who have perhaps never stepped foot behind a bar. Together, Barry and Saputo, plus a team of trusted managers, help their trainees to become full-fledged bartenders in no time.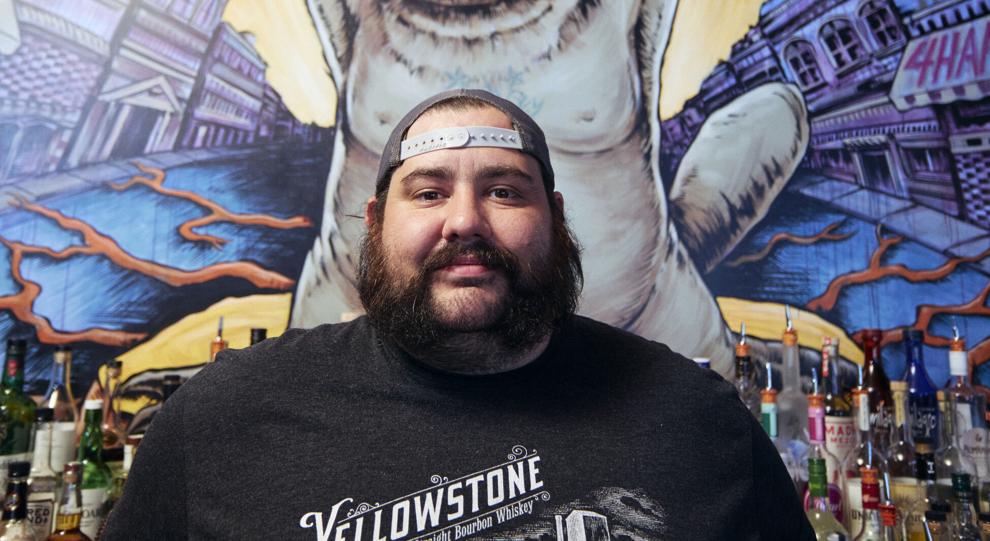 "It's been like a cool group project," Saputo says. "The ones that have been here a little bit longer and really acclimated – you see them pulling the newer ones up. The funny thing is that the cocktail part – the stuff that, I think, a lot of people romanticize – that's been the easier part. The bigger challenge is what it means to be a bartender."
The full scope of that challenge includes a focus on hospitality and serving guests. But, of course, you have to have something to serve them. On any given night, the chalkboard might offer something like the Jesus Christ, St. George, made with Skeptic Gin, St. George dry rye gin, basil brandy, spiced pear, lemon, tea and black lemon, or the Morning Glory, a clarified chocolate milk punch with bourbon, gin, cacao, nixta, citrus, cacao nibs and espresso mocha. There is always a cocktail on the backburner for when an ingredient inevitably runs dry, and the option has to be wiped from the chalkboard and then replaced with the next in line.
"Everyone is constantly working on ideas," Saputo says.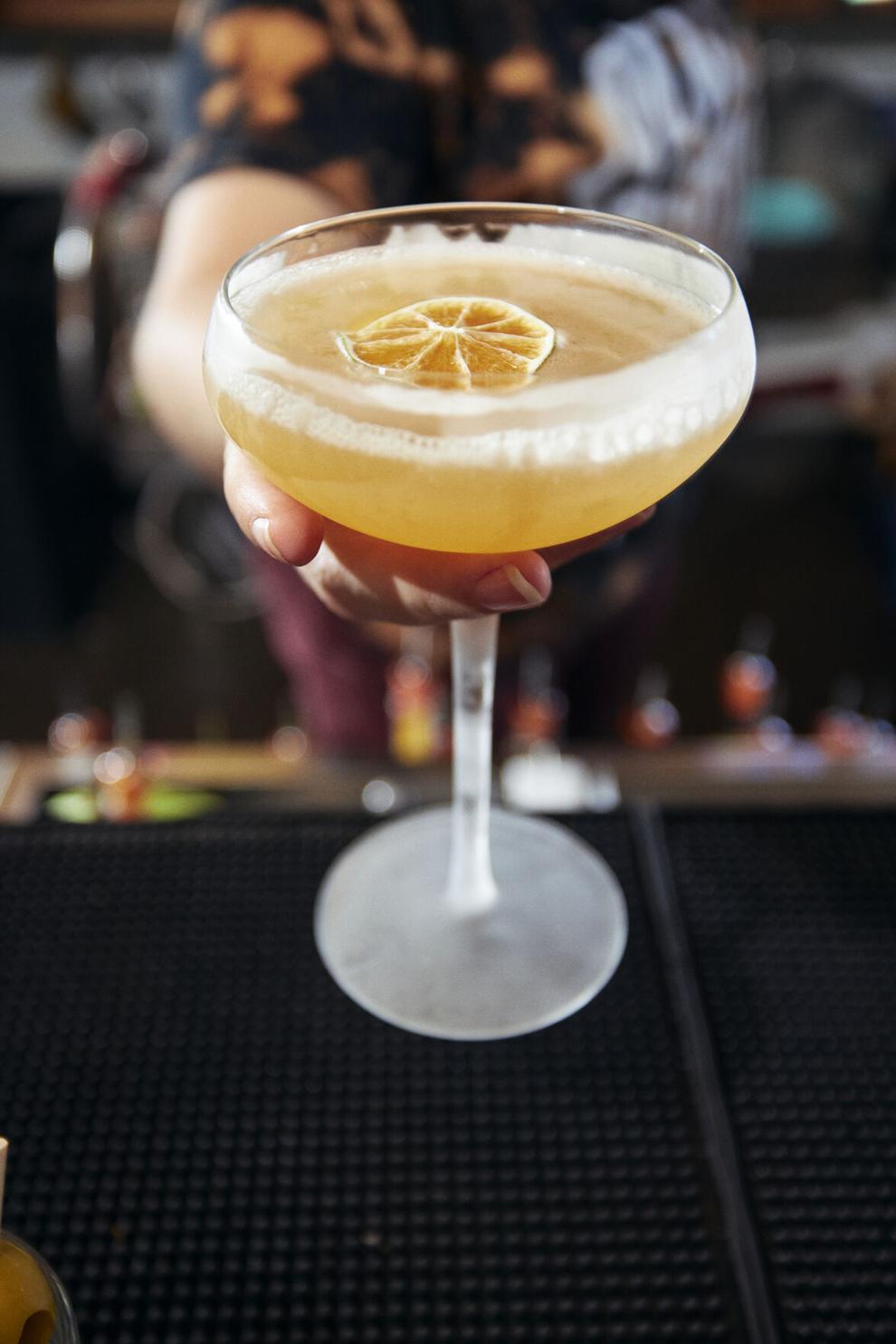 Before a drink officially hits the menu, chances are that Saputo or Barry have put their own touches on it to make sure it's balanced by the time it makes its way to the customer. However, the freedom to be creative is something that gives the staff room to flourish.
"The creativity and research is encouraged," says Platypus bartender Laura McFarland, who started at the bar about a month after it opened. "Some of the other places, they just want you to make what they've already made, and there's no time to really try anything else."
For McFarland, who has even gotten in trouble at previous establishments for trying to think out of the box, it's been a very welcome change. "I think it's gotten me into a really good headspace," she says. "It was something I wanted for so long, but it was kind of being pushed back or taken away from me."
Even the bar's owners recognize that the learning process is a two-way street.
"I think the biggest thing is that we're learning, too, along this process, and pushing our own personal boundaries," Barry says.
"I think Meredith and I are finding that these people with fresh eyes and everything are thinking of things that we've never really thought before," Saputo agrees. 
Obviously, with a bar staff that has many still in training, some things are bound to go wrong, such as someone using the wrong ratios to make a basil simple syrup, but both owners embrace that you have to make some mistakes to grow.
"You learn a lot from messing up," Barry says.
"I have also done enough dumb shit that I remind myself not to get too upset about shit," Saputo adds.
Because Platypus' owners have witnessed plenty of bar environments throughout their careers where drug and alcohol abuse were rampant and often glamorized, they agree they want to ensure they are offering support and that everyone on the team is truly healthy.
"I think it's just been [about] transparency," Saputo says. "I'm pretty available to everyone [and] so is Meredith – probably almost to a fault sometimes. I try to be the best at manifesting and maintaining where people are, where they're standing, what's expected of them next, things like that, you know. So there's a lot of sidebar conversations and things like that that I wouldn't have gotten at other places."
And from what Barry and Saputo have seen so far, it's all paying off.
"There's this moment that I had. I was bartending on a Sunday night. It was just one night where I really was aware, and I was looking around at the space, and I was watching [two bartenders] dance behind that bar together. And then everyone on the floor is dancing together as well," Barry says. "I had to pinch myself because I was like, 'Is this our bar, Tony? Look at this. Look at how happy everybody is. Look how much everybody's having a good time.' That energy was so positive. It was such a great mix of industry and neighborhood and people who had just walked in, different age groups. I don't even know how to describe it. It's something that I've dreamed about for my entire life."
Platypus, 4501 Manchester Ave., The Grove, St. Louis, Missouri, 314.448.1622, drinkplatypus.com