If you're hungry for something different for breakfast or lunch, head to the newly opened Morning Day Café in Nixa, Missouri, which features farm fresh and organic choices.
The restaurant had a soft opening over the weekend, but will host a grand opening on Dec. 31 and Jan. 1.
Owner Miranda Barchers says her dishes are whimsical. Start, for instance, with the breakfast eggroll, which is stuffed with scrambled eggs, your choice of bacon, sausage or avocado, four cheeses, tucked in a wonton wrapper and fried, and then served with a bacon gravy dipping sauce. Make it vegetarian and request the poblano cheese sauce instead of the gravy.
Another unique choice are the breakfast nachos, which feature a bed of fried flour tortillas topped with scrambled eggs, bacon and sausage, poblano cheese sauce, diced tomatoes, chives and Greek yogurt. Want mac 'n' cheese in the morning? Order the B-Mac: pasta tossed in a four-cheese sauce with scrambled eggs, spinach and Roma tomatoes, topped with pulled pork.
"We have a fun variety and stuff you won't find anywhere else," Barchers says.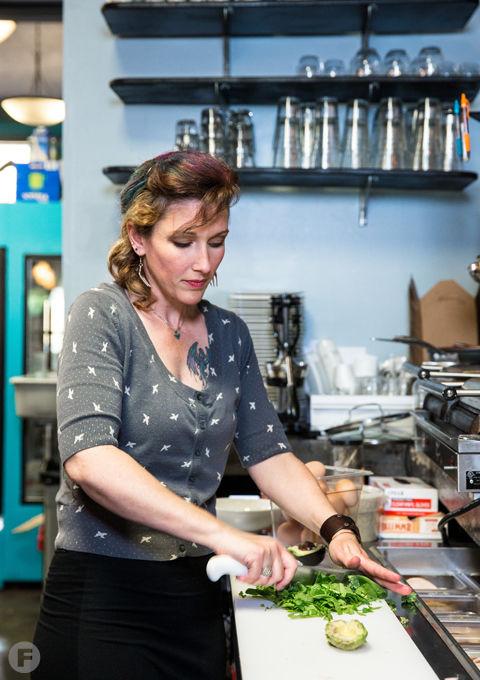 Barchers' daughter is vegan, so the menu at Morning Day Café offers several vegetarian and vegan options, including three burgers. There are also several gluten-free and dairy-free items.
There are plenty of libations, too. The cocktail menu includes several different mimosas and a variety of Bloody Marys, including the Tropical Nim mimosa with Champagne, pineapple juice and hint of mango, and the Bloody Ninja with wasabi, sesame oil and soy sauce. Barchers infuses her own spirits and makes her own Bloody Mary mix in house.
She also roasts her own coffee. The beans come from Guatemala, and Barchers personally visits the country once a year to visit the farms from which her coffee is sourced.
The breads are made in-house, so is the quiche. Barchers serves ethically sourced meats and eggs and visits the farms before bringing on a supplier. The meat she carries is all grass-fed. "There's no GMO feeds. I want to be able to tell my customers this is ethically sourced," she says.
A Nixa native, Barchers is no stranger to the restaurant industry. In 2014, she opened the first location of Morning Day Café in Liberty, Missouri. When a spot opened in her hometown, she wanted to bring the concept to Nixa. The menu in Nixa is more expansive than the Liberty location because the kitchen is significantly bigger and can accommodate special events and catering.
The building is more than 100 years old and was original home to Nixa Hardware. Barchers often visited the shop as a child, so with that nostalgia in mind, she kept the original ceilings and floors.
In the bar area, the cabinets were handcrafted. The bar top is made from a salvaged white oak slab, which was milled in Verona. In all, it took a year to renovate the building.
"When I first walked through this space, the walls were crumbling; it was full of junk," Barchers says. "For me to be able to see a restaurant through all the age and dust makes it even more amazing to walk through it now. There is a lot of love put into this."
Morning Day Café, 105 S. Main St., Nixa, Mixxouri, 417.494.5055, acebook.com/MDCNixa