One of the year's most anticipated restaurant openings is just around the corner.
After Novel closes in its original Westside location after dinner service on March 24, the restaurant will relocate to an industrial two-story building located at 1927 McGee Street in the Crossroads. Novel is slated to reopen in its new home on April 6.
Chef Ryan Brazeal – who co-owns Novel with pastry chef Jessica Brazeal – says he liked the Westside location, but it quickly became clear that there were limitations to the space. Novel simply outgrew the space, which could not keep up with the demands of a busy restaurant.
In the summer of 2015, Brazeal purchased two buildings located next door to each other in the Crossroads Arts District. One was the former Cadillac Catering building, whose collapsed roof had closed the local catering business years earlier. The second was a much smaller two-story building that the catering company had used for storage.
"I purchased both buildings as an insurance policy, as much as an investment," says Brazeal. "I planned to use one for my restaurant, and the other for my parking lot. Honestly, I wasn't sure which one I planned to use for what until my architects, El Dorado, ran the numbers, then it was an easy decision."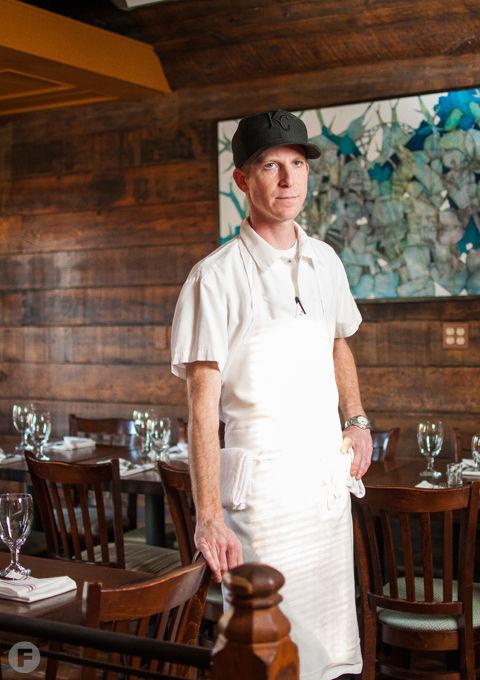 He razed the Cadillac Catering building for a parking lot, deciding to use the two-story building for the restaurant, and quickly ran into issues with the city. He worked through those issues, but the process did delay the project considerably. 
The new restaurant offers almost the same square footage as the original location, with room for about the same number of seats (62) inside. However, the entire restaurant feels much bigger, with high industrial ceilings that are being installed with sound dampeners to help control the noise.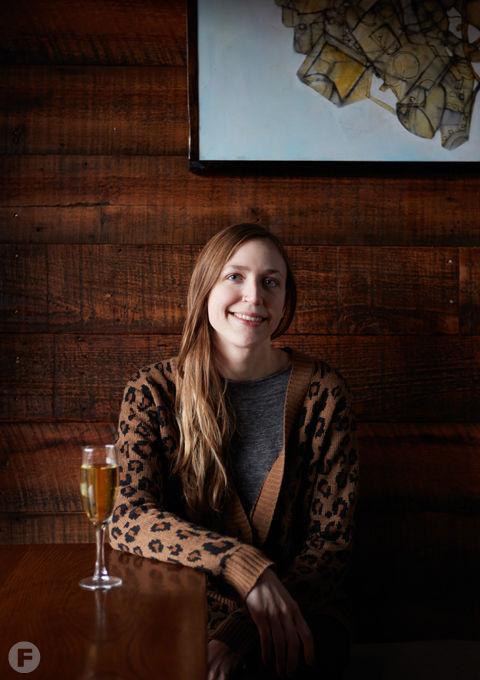 The long, open dining room will be able to be divided into smaller areas, with dramatic floor-to-ceiling theater-style curtains that can be pulled back when not in use. Outside, a front patio will seat an additional 32 guests. "With no staircase for guests or servers to navigate and a large bar that will seat nearly 20, the new space is already in a much better position to serve our needs," Brazeal says.
Novel's interior has been put in the stylish and capable hands of local artist Peregrine Honig. She has selected a simple, modern aesthetic for the restaurant with a slight nod to the 1970s. Upon entering the space, guests will notice a statement wall that wraps around to frame the restrooms. It serves as a screen of sorts, made of small dark wood slats that hang vertically. Yet after walking past the wall, flashes of vibrant reddish-orange paint can be seen peeking out in between the slats, demanding visual attention. It creates a subtle pop of color and a bit of an optical illusion that seems fresh, yet also brings in elements of wood and color that will remind guests of the original Novel space. The effect warms up the formerly industrial space nicely and sets the stage for what is to come.
Honig is also working with mosaic tile artist Laura Rendlen to create the real focal point of the restaurant: an 18-foot glass mosaic. The piece will be done on subway tile, creating an ombré effect that will move from light white tile to dark. In the mosaic, expect to see whimsical woodland creatures including foxes and an owl, along with a field of poppies.
Underneath the large mosaic piece, a grayish-green stamped leather banquette will wrap around the dining room in an L-shape. In the corner of the restaurant will be a large, round 6-top table. Ryan and Jessica plan to repurpose all of the existing tables and chairs from the original location to finish the seating in the space. Just as in the original Novel, there will be no tablecloths on the tables, as Brazeal wants the space to convey a comfortable casualness similar to his first location.
In the back of the restaurant is an open kitchen with a small white granite bar that could be used as an intimate chef's counter. The kitchen will have a large 14-foot hood over the horizontal heart of the new kitchen line. This additional hood space will allow a pasta cooker to be added and give the formerly compact kitchen at Novel a little breathing room in the new space. "I am spending a lot of time right now thinking about our kitchen work flow and processes, trying to figure out what should stay the same and what should change. Now is the time to decide if there is a better way to do something," Brazeal says.
In the front of the kitchen line, facing the dining room, will be the salad and dessert station, along with a proper barista coffee station able to serve any number of espresso-based drinks made from Oddly Correct coffee beans.
Both chefs will launch new menus once Novel opens in the new location. "This new restaurant will give both Jessica and I a chance to offer some new things to our guests, to show them some new things," Brazeal says. "I personally have grown as a chef since opening Novel, and I am looking forward to this new menu as a chance to really come into my own and serve dishes that are truly mine."
He says he plans to dial back on the Asian influences that have become a bit of trademark from his time in New York working for renowned chef David Chang at Momofuku. He says the new menu be less component-driven, focusing more on concise cooking methods. Sourcing the best ingredients and then executing the dishes will still be the core of everything he does at Novel.
In more concrete terms, Brazeal is looking forward to rolling out his own pasta menu, which will be brand new for Novel. He also plans to offer his own bread program, highlighting the yeast breads that he has been playing with for several months.
The new bar area is located to the left of the front door, featuring a refreshingly large horseshoe-shaped bar. Liquid Minded Concepts has been hired to create a stellar bar program for the new and improved restaurant. Two high-top tables and chairs, in addition to 20 bar seats, will round out the bar seating for Novel.
A special bar-only menu will feature "grandma slices" of housemade pizza made from Brazeal's yeast dough recipe. Popular in Long Island, grandma slices are typically square, made with cheese and topped with tomato sauce. Brazeal says his staff has been enjoying his tester batches, and he thinks they will make a great bar snack.
All in all, the opening of a shiny new Novel restaurant in the Crossroads will be the perfect 5-year anniversary gift for the restaurant, its chef-owners and its many raving fans.
Novel, 1927 McGee St., Crossroads Arts District, Kansas City, Missouri, novelkc.com