Athough the Canyon Farms Golf Club is not open to the public, the impressive new 6,900-square-foot restaurant on its Lenexa grounds, Silo Modern Farmhouse, welcomes all with a broad, appealing menu made with lots of fresh, locally sourced ingredients. The restaurant opened three weeks ago as part of the newly constructed Canyon Farms Club. Adjacent to Lenexa's new city center, which includes Lenexa Public Market, the area is a recent magnet for development, and has been attracting a lot of diners with its sudden wide range of options.
While Silo Modern Farmhouse does not have any outdoor signage (at least not yet), it is easy to find thanks to the authentic, old stone silo that sits near the entrance to the restaurant and clubhouse. The building also sits on the top of a large hill, which becomes more obvious when you walk in and see the sweeping views of the golf course and fountain from the restaurant's massive windows and wraparound deck.
The 88-seat restaurant is contemporary and casual, with soaring ceilings and massive exposed beams. Dark wood tables are surrounded by cool gray high back chairs or situated in comfortable leather booths that frame the dining room. It's not formal, but does feel plush. In warmer months, diners can also opt to sit on the restaurant's back deck, overlooking the golf course and a members-only area with a separate bar and fire pits.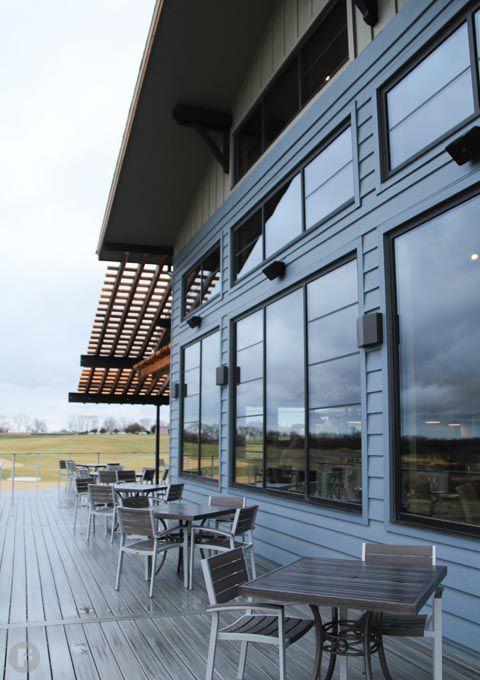 The kitchen at Silo Modern Farmhouse is helmed by Laura Favela, who most recently worked as a chef for Aramark. She worked at Crafts & Drafts at Kauffman Stadium, but also was taken all over the country for Aramark, including to work at Super Bowl and World Series events. Locally, she has also been found as sous chef at the Carriage House, in addition to other area country clubs. She's excited to be in a more permanent position with Silo and to work at the head of a consistent team.
"We're making comfort food, but with a lot of enhancements," she explains. "Everything is scratch, including the bread, desserts and pasta, as well as all of the sauces and pickles." Chef Favela's menu is approachable and reflects her experiences cooking for a diverse audience. On the starters menu, for example, take Favela's Carbonara Croquettes: a crispy panko crust gives way to a creamy pocket of pasta carbonara, made with local bacon and green peas. Also on the starter menu: a bright, tender Peruvian octopus ceviche, which is gently poached in a citrus marinade before plating, is served with crispy yucca and root chips.    
Favela has also created a range of salads, flatbreads and burgers, many of which incorporate locally-produced ingredients from providers including Green Dirt Farm, City Bitty Farms, Yoli Tortilleria and more. A smoked beet salad features mixed greens topped with house-smoked beets along with local whipped goat cheese, an apricot vinaigrette and a pistachio butter that Favela describes as being almost like foie gras in texture. The double-stack bacon cheeseburger comes topped with local bacon and a sharp white Cheddar on a brioche bun. Seared local tofu is used on the restaurant's Korean bánh mì sandwich, which also features pickled vegetables, jalapeño, slaw and a chili aïoli. Housemade chorizo tops the Green Chorizo flatbread, which also comes topped with Manchego cheese, peppadew peppers, olives and fresh herbs. The Speck and Fresh Mozzarella flatbread features locally sourced, melt-in-your-mouth speck along with a smoked tomato cream, fresh mozzarella and basil.
Favela is exceptionally proud of her entrees, which include fresh pasta dishes including the Berkshire Ragu pasta: soft, tangy braised pork in a smoked tomato sauce is served with root vegetables and wild mushrooms over a housemade tagliatelle. From there diners should continue to have no trouble finding something that appeals, from miso pan-seared salmon to New Zealand Lamb Chops in a mustard-herb crust, a KC Strip served with stone-ground grits and shallot butter, seared scallops with creamy Parmesan leeks, and even an herb-pecan tofu dish with couscous and a vegetable pot pie, among many others. If there's room after all of this, a 17-layer chocolate cake – the restaurant's signature dessert – awaits.
Silo also offers an impressive wine program, which features wines predominantly from California, Oregon, Italy and France, as well as a craft beer menu that will keep beer aficionados pleased. Craft cocktails, including a selection of classics made with local spirits, are available.
Silo Modern Farmhouse is KC Hopps' first run at a restaurant outside of its comfortable bar-and-grill niche (the group owns the Blue Moose Restaurants as well as Stroud's, Barley's Kitchen & Tap and others). With Silo, they have created a restaurant that is warm and inviting and has broad appeal, even if golf is not on your menu.
Silo Modern Farmhouse, 17501 West 87th St. Pkwy, Lenexa, Kansas, 913.278.0910, silocanyonfarms.com