At Sherwood's Classic Eats in Barnhart, Missouri, just south of St. Louis, you can grab a burger in the restaurant attached to a Mobile on the Run.
What's not expected, though, are the chimney cakes. The traditional Eastern European street food is basically a cylindrical cake both stuffed and topped with a variety of tasty treats.
"People just love them!" says owner Tiffany Lindsey, who opened Sherwood's in August. "The toppings and fillings are absolutely endless."
Lindsey ordered a special oven from Europe that rotates the dough like a rotisserie until it's soft and moist on the inside, and a little crispy on the inside. The traditional flavoring is cinnamon-sugar, but Lindsey doesn't stop there. Fill them with your choice of Nutella, peanut butter or ice cream and top with coconut, Oreos, Butterfinger, rainbow sprinkles, chocolate sprinkles or Nutter Butter.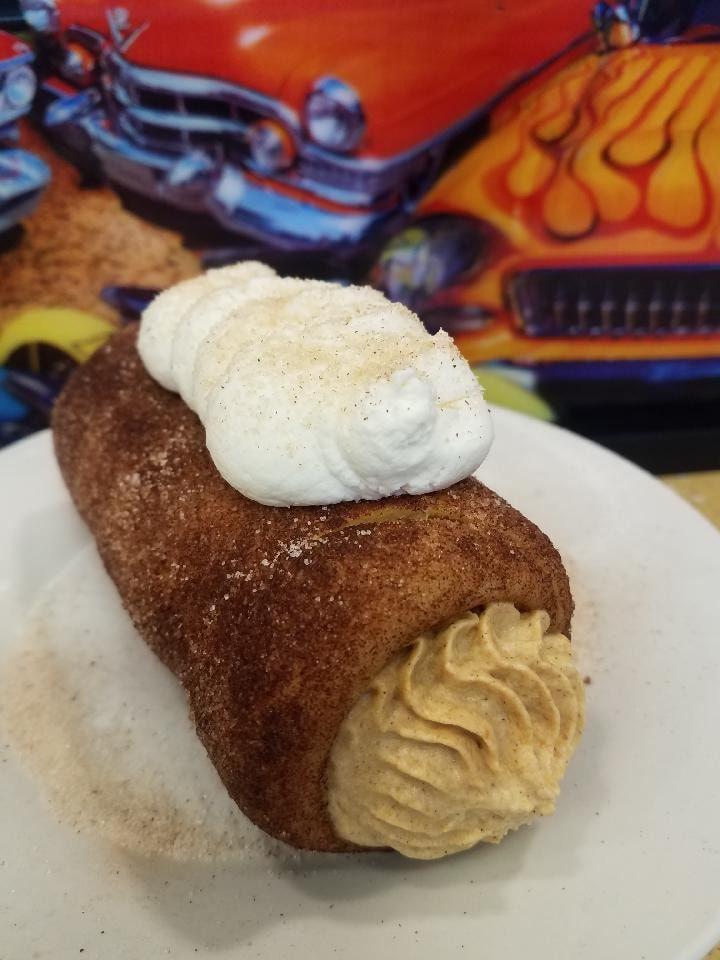 Sherwood's offers seasonal chimney cakes, as well: Right now, you can find a cinnamon-sugar cake stuffed with apple pie filling and a cake stuffed with chocolate fluff, topped with Oreos and drizzled with melted white chocolate.
Lindsey has worked in the restaurant industry for years, with significant stints at Lywellyn's Restaurant Group, the Gianino restaurant family (Joey B's, Billy G's, etc.) and Annie Gunn's before heading back to Barnhart.
Her own restaurant was something she'd wanted for a while, but she waited until her kids were a little older "to finally get up the guts to do it," she says, noting that her son is about to be deployed in the Navy and her daughter is in high school.
The diner, which serves breakfast all day alongside classic eats like smash burgers, meatloaf, pot roast and country fried steak, is named after her father, who is battling cancer.
"His name is Sherwood, but everyone calls him Woody, so I have my Woody burgers and the Woody's Original Classic [in his honor]," she says. "My goal was to get open while he'd still be able to see it. The Woody Classic is his favorite."
Diners with Eastern European roots have been delighted with the chimney cakes, in particular.
"We're low-key, [we're] the little guy," Lindsey says of Sherwood's. "But I knew that I had to have something different – something nobody else has."
Sherwood's is open seven days a week from 6am to 9pm.
Sherwood's Classic Eats, 1725 Catlin Dr., Barnhart, Missouri, sherwoodsclassiceats.com