TIM WEINMANN'S TOP 3 PICKS FOR YOUR SHOPPING CART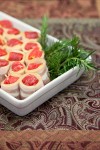 Ozark grillers – thinly sliced sirloin stuffed with extra-sharp Cheddar and wrapped in bacon – are the top-selling item in the store. Tim suggests throwing them on the grill at your next backyard gathering for a quick-cooking appetizer.

Mix and match the specialty brats, including jalapeño-Cheddar, pizza supreme (made with everything you'll find on a supreme pizza) and beer brats. Make it a meal with the housemade potato chips, creamy macaroni salad or tri-color pasta salad.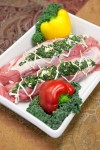 The stuffed pork tenderloin, packed with spinach, blue cheese and roasted garlic, makes a great dinner centerpiece and goes great with the deli's prosciutto-wrapped asparagus and roasted potatoes.